Nova focus on AoE damage and boosting the damage by shooting at the antimatter. Many warframes has a charge or teleport ability that allow you to quickly move forward but Nova's Worm Hole ability is much more powerful as you can also use it to teleport enemies.
The Null Star ability deploys several small antimatter particles around Nova, that will seek out and damage nearby enemies.
The Antimatter Drop ability fires a slow moving antimatter projectile that explodes on impact dealing AoE damage to nearby enemies. You can boost the damage of the Antimatter Drop by shooting at it; it will absorb the damage from the bullets and release the stored damage on impact causing a more deadly explosion.
Worm Hole - Crates a worm hole between two locations - everybody entering through the portal (friend or foe!) will immediately be teleported to the exit portal. This can be used both to increase your own mobility and quickly get out of trouble - or you can open a worm hole in front of incoming enemies to teleport them further away giving you more time to kill them. On Spy missions you can use the Worm Hole to evade lasers or patrolling guards.
Molecular Prime - Surrounds all enemies within range with antimatter; when an enemy is killed this result in a massive antimatter explosion, that damage nearby enemies. This ability can be modded to slow  enemies ("Slow Nova") making them easier to kill. Bu for faster farming you can also mod to speed up enemies ("Speed Nova") so melee enemies will get close enough for your AoE damage abilities faster; this is also useful when doing Index runs for credits.
Hint: For fast farming you could bring a Speed Nova + Loki + Nekros + Trinity. Loki can disarm enemies and force them to run to melee range and Nova can speed this up - when enemies are close you can AoE them down. Nekros can desecrate the dead enemies to get extra loot and Trinity will restore energy to the team so you can keep using your abilities.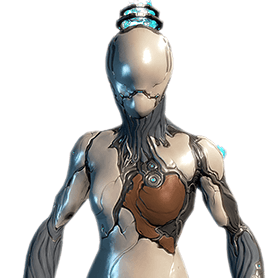 Abilities:
Null Star - Deploys several small antimatter particles around Nova, that will seek out and damage nearby enemies.
Antimatter Drop - Slow moving antimatter projectile that explodes on impact (AoE damage).
Worm Hole - Teleportation (mobility)
Molecular Prime - AoE Damage to nearby enemies